Three Consecutive Years of Eclipse Chasing in Spain, is the topic of a master thesis presented by Mohamad Soltanolkotabi in the University of Girona, Spain in 2017. This research was a pioneering work to demonstrate a rare opportunity for Spain to host one of the greatest eclipse chasing events through history in 2026, 2027 and 2028. Later this research was selected among the eight best master thesis of tourism in 2017 in Spain by the Red INTUR (www.red-intur.org). This work aims to provide a primary study about the upcoming phenomena in order to start an early comprehensive plan to organize these events. The thesis follows studying the role of this rare opportunity to promote tourism in Spain based on planning, education and awareness.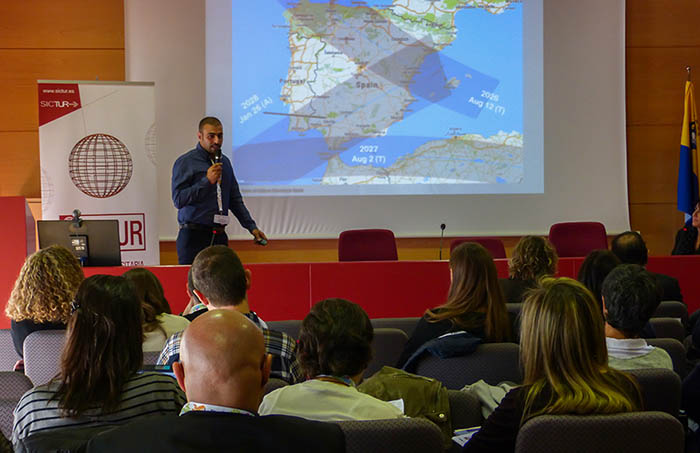 More than fifty experts including NASA scientists and over a hundred interested people from all over the world have collaborated in the research. The findings show fantastic potentials in Spain to be prepared and hold eclipse celebrations throughout the country.
The solar eclipses of the next decade in Spain will be seen in a vast area of this country. All autonomous communities except Canary Islands will be visited by the path of totality or annularity. The early weather forecast models predict clear skies for these great events and the research shows that a huge number of travelers will come to Spain basically to observe the solar eclipses and the author shows that Spain can be the focal point of eclipse chasing in the whole world.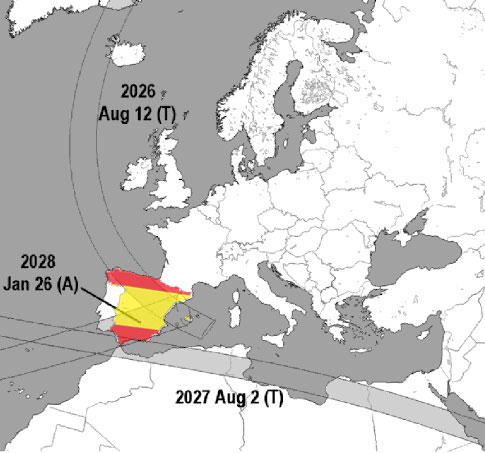 These events won't overshadow Spain only during the eclipse days. An early and comprehensive planning will offer great opportunities to Spain before, during and after the events. Early planning for the Spanish eclipse events will have great cultural and educational impacts. The research highlights the potential of growing astrotourism in Spain to support the project.
The eclipse of 2026, is the first total solar eclipse to occur over the Iberian Peninsula in nearly 120 years and the first total one to occur over the Europe mainland since 1999. Moreover, Spain will be the best and almost the only European country to observe the upcoming events. This total solar eclipse can be known worldwide as The Spanish Great Eclipse and promote Tourism throughout Spain in a creative and scientific way.
The author aims to develop his work in order to conduct the project in Spain. He already cooperates with the educational and tourism sector of Spain.