Super young Moon of December 2014!
Observation report

:


Date of sighting: 12/22/2014
Location: Karkas, Natanz, Iran ( 51°46' E, 33° 24' N, Altitude: 2500m

(


Observers: Mohamad Soltanolkottabi, Hamid Reza Ahmadi & Esfandiar Jahangiri
Horizon condition: 1° mountain at Moon set situation, layers of clouds as seen in the pictures Temperature: 0° C
Sunset: 16:59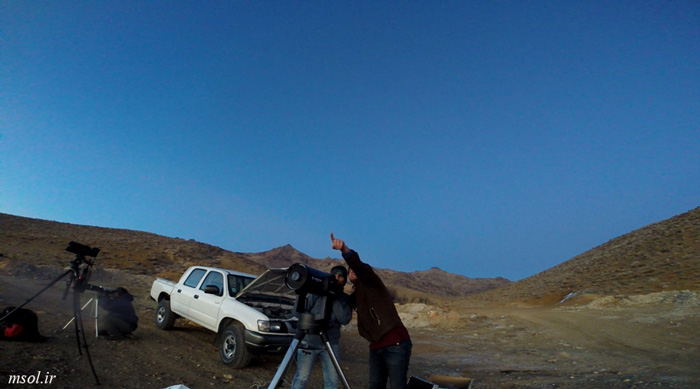 Equipments: 8" Meade telescope, 20*90 binoculars, Canon 6D camera+ 1000 mm lens for photographing the Moon only, one camera for recording the movie & one more for taking extra photos
The result: The slender crescent moon observed 28 minutes after the Sunset by two observers

,


Mohamad Soltanolkottabi & then Hamid Reza Ahmadi through 20*90 binoculars only. Crescent Moon appeared in a good number of photos as well.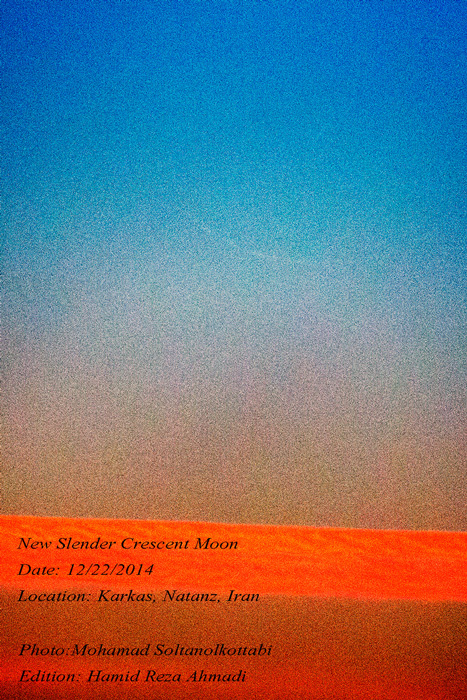 Moon properties at the first observation at 17:27 pm

:


Elongation: 7.49°
Moon altitude: 1.51°
Moon age: 12h 21

'


Moon phase: 0.55%